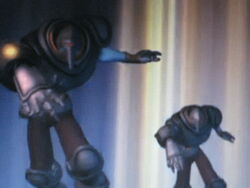 OBSIDIAN MINIONS
are robot-like demons that look like
Panic Demons
. Obsidian minions are demons in obsidian armor.
In a training mission,
Kira
is shown looking at an obsidian minion in her binoculars and tells
Eli
. Eli then daringly rushes toward the
Demon
. However many Obsidian minions appear around Eli De-cloaking themselves and shoot fireballs at him. Eli then uses his
DRP
to make false images of himself to distract his enemies while destroys them. Eli ends up winning as the Obsidian minions fall to the ground.
Personalty
Edit
Obsidian minions are dumb and do not have any wishes or dreams.  They hate angels.  These minions however, all want to be different and unlike the rest of their class.
Powers and Equipment
Edit
One of their greatest powers is that they can turn invisible, thus making it easy for them to set traps for rash angels. They have small flamethrowers that are mounted on their gauntlets and have sharp fingers that can rip.
The name obsidian minion is to remember that demons are spiritual evil beings not physical.
It is unknown what they look like under their armor, because whenever the demon is killed its body is turned to dust, and their armor clanks to the ground, their body destroyed.
Obsidian Minions have 4 different Redemption Cards.
Ad blocker interference detected!
Wikia is a free-to-use site that makes money from advertising. We have a modified experience for viewers using ad blockers

Wikia is not accessible if you've made further modifications. Remove the custom ad blocker rule(s) and the page will load as expected.