FALLEN ANGEL MORGAN ACTION FIGURE
The wait is finally over! Get the ALL NEW! 7 inch replica action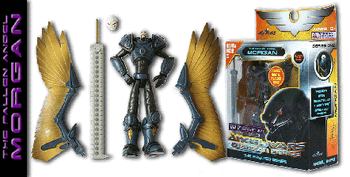 figure depicting the Fallen Angel Morgan, from the highly acclaimed, animated series Angel Wars Guardian Force.
Features:
Edit
16 points of articulation
Once a trusted Powers Class Angel, Morgan was promised great power by the Dragon and fell along with all of those who betrayed the Maker. As Morg he was one of the most feared demons of the Great War, but was eventually imprisoned by his new master for failing to deliver on a promise.
Ad blocker interference detected!
Wikia is a free-to-use site that makes money from advertising. We have a modified experience for viewers using ad blockers

Wikia is not accessible if you've made further modifications. Remove the custom ad blocker rule(s) and the page will load as expected.