The
ARCHANGEL MICHAEL ACTION FIGURE
was a toy depicting the
Archangel
Michael
Angel Wars style. The
Fallen Angel Morgan
was the other collectible figure in the line. Near Point Toys created the line of toys for Angel Wars creators TeleStoryTOONS.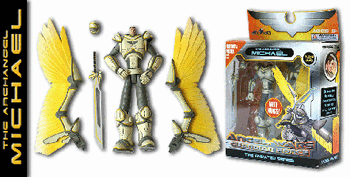 16 points of articulation
Removable helmet
Wings
Glow in the dark trim
Description
Edit
Heaven's Greatest Warrior! His wisdom and experience are known throughout the Heavens. But even Michael isn't perfect... he's haunted by a past mistake that nearly lost the Great War of Heaven. Michael carries the burden of great responsibility, for he knows if an Archangel fails, the very foundations of Heaven are rocked.
Ad blocker interference detected!
Wikia is a free-to-use site that makes money from advertising. We have a modified experience for viewers using ad blockers

Wikia is not accessible if you've made further modifications. Remove the custom ad blocker rule(s) and the page will load as expected.