AngelWars.com is the official website of Angel Wars.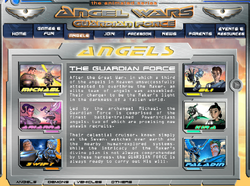 From this website one may play the Nethercell Game see the profiles of the Angels, Demons, or vehicle descriptions. One can also join the Angel wars fan club or contact it on Facebook here. It also contains information on Angel Wars and contains resources and products from Angel Wars.
The website as of 8 - 5 - 18 is now defunct and re-directs to a Go-Daddy page.
Old versions of the website can be found using the Wayback Machine.