AngelWars.com is the official website of Angel Wars.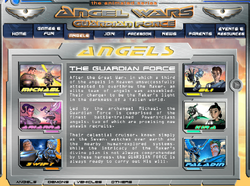 From this website one may play the Nethercell Game see the profiles of the Angels, Demons, or vehicle descriptions. One can also join the Angel wars fan club or contact it on Facebook here. It also contains information on Angel Wars and contains resources and products from Angel Wars.
Ad blocker interference detected!
Wikia is a free-to-use site that makes money from advertising. We have a modified experience for viewers using ad blockers

Wikia is not accessible if you've made further modifications. Remove the custom ad blocker rule(s) and the page will load as expected.